A website for enthusiasts of classic Ducati motorcycles
if you own a beveldrive Ducati there should be something here for you

this site includes resources, information, manuals, and photographs of all vintage Ducati motorcycles with bevel gear driven cams, produced between 1954 and 1985.

no money is made from this site, no ads are sold, there is a lot of information for free, and there are links to useful services and vendors... enjoy it...






C H A N G E T O M Y E M A I L A D D R E S S
Due to the massive number of spam emails that are sent to my rene@ducatimeccanica email address I have had to close that account. My new email address is below...



that's - renewaters - unfortunately you have to copy this by hand into your email, apparently its the only way I can stop the spammers, sorry for the inconvenience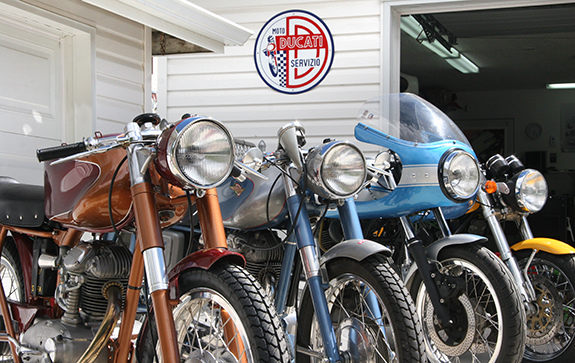 I was busy last winter and got several bikes finished both for Sue and I and a couple for other people. There was a '74 GT (below) that was a basket case restoration but huge fun to do as it was for the original owner who bought it new in 1975, wrecked it in '78, and then squirreled the bits away in his barn until bringing it to me. He had originally just asked me to rebuild the motor, but ended up bringing the whole bike. He rode it to Oregon the day after picking it up... not sure if that's a huge compliment or an indication of diminished faculties, but he made it with no problems, so there was much rejoycing... here... and there.

The 175 Sport replica (also below) was a project that sat in my shed for about 8 years after I'd sourced all the parts. Then last winter Sue decided she was going to ride her 200 in the 2016 Rocky Mountain Moto Giro I was inspired to finish (OK start) mine. I'm very happy with the way it turned out concidering I started out with a much unloved 160 Monza Jr. The '72 750GT (blow too) got a complete motor overhaul, electronic ignition, dual disc conversion, RaceTech suspension upgrades, and, and, and... so it was a busy winter... and spring... and most of the summer... but it was worth it!

Although there were some days when it was hard to find any room...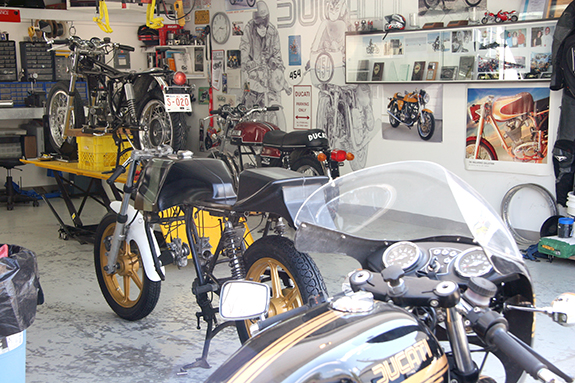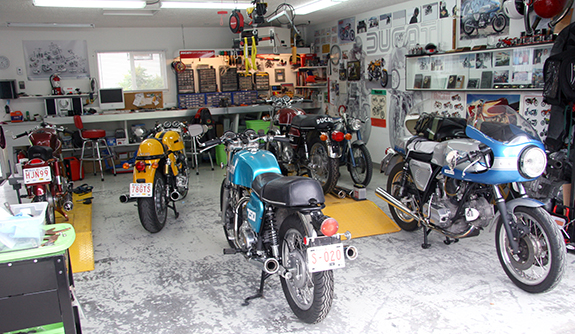 We did a couple of just motors too. Here's a freshly rebuilt 900 SS motor getting ready to be sent to Ontario... there was lots more wrapping... and then more wrapping... and then a hefty wooden crate... but it got there without a mark :-)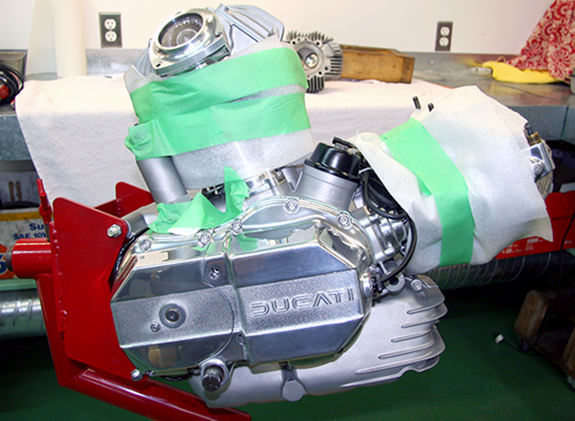 Sue and I did manage to find some time to get away with a friend of ours. We looked like the local chapter of the 900 club wherever we stayed for the night. Three bevel Ducatis on the road together turn some heads :-)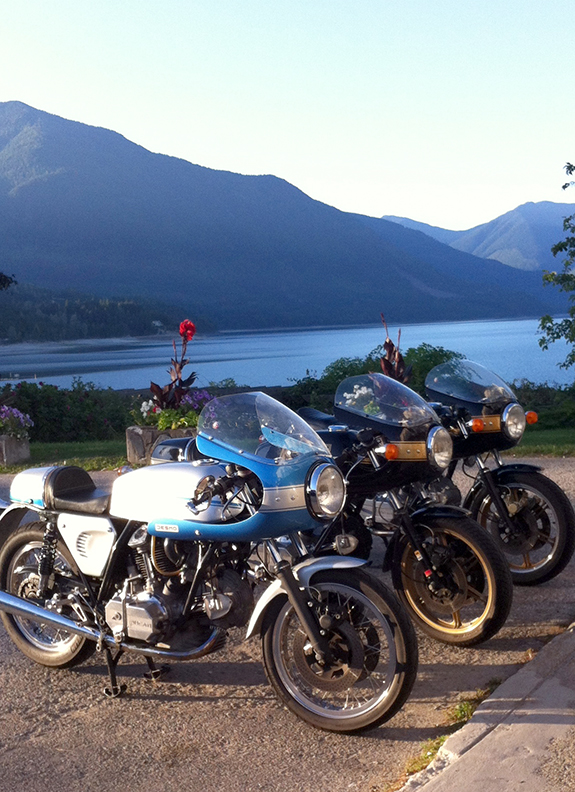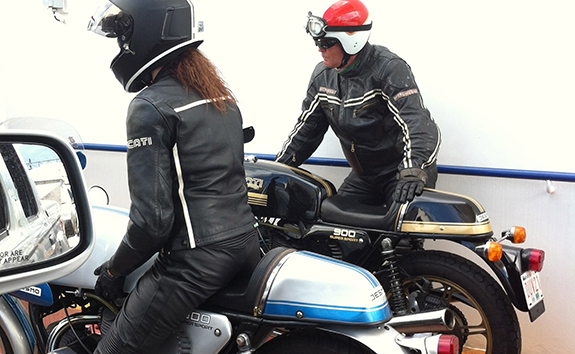 1958 Ducati 175 Sport replica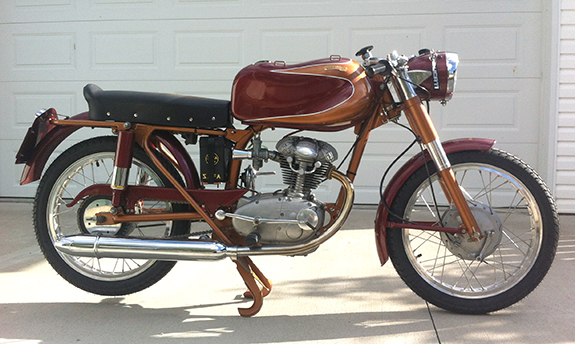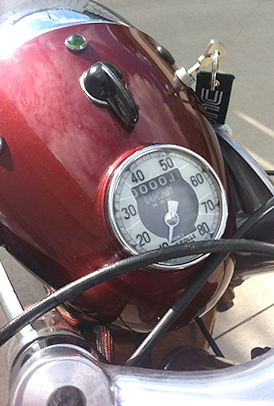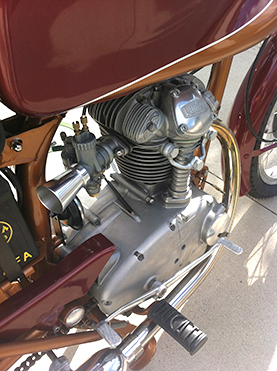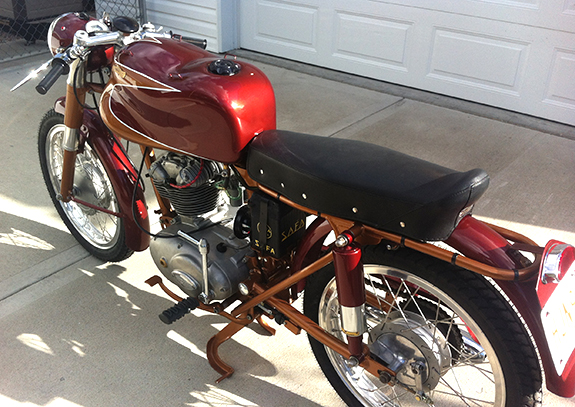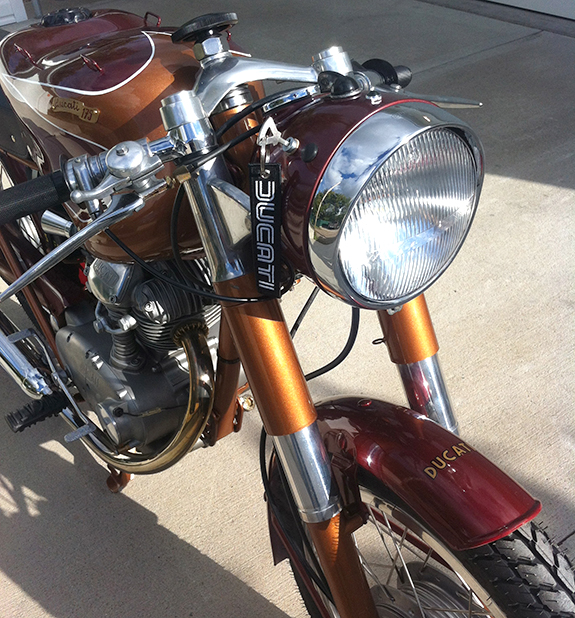 1959 Ducati 200 SS/Elite - Sue's Moto Giro racer (unrestored)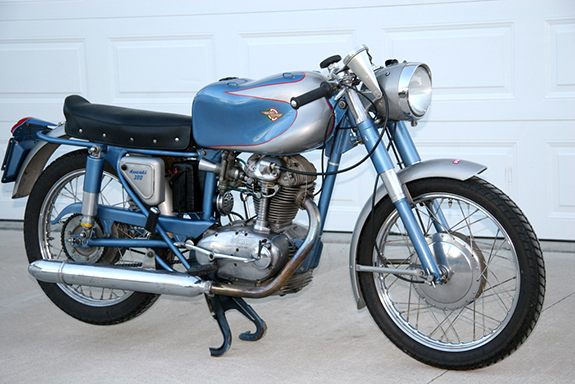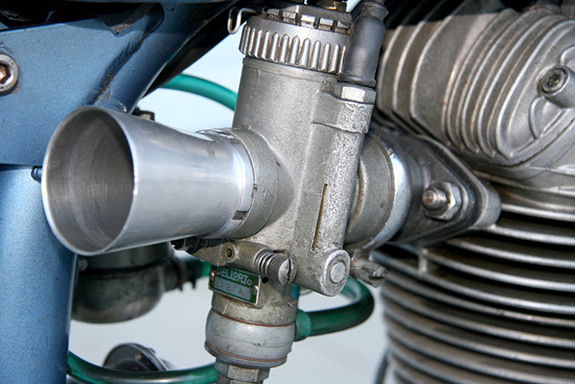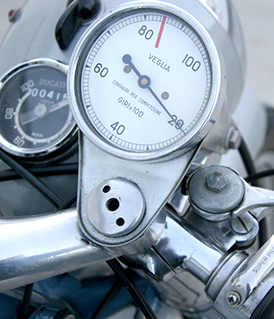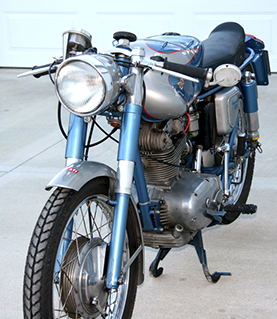 1974 Ducati 750GT

A couple of before shots... the motor had been apart for over 10 years, and mice were living in the seat...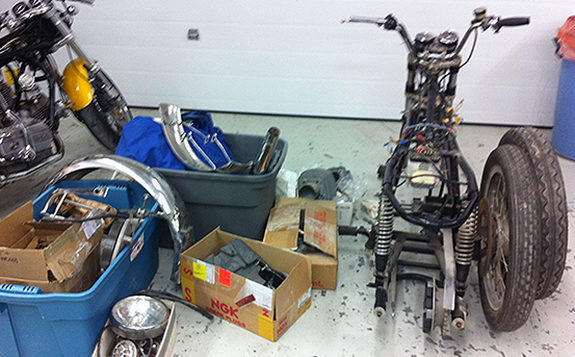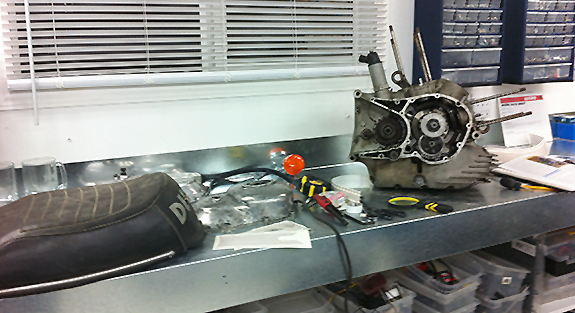 and after...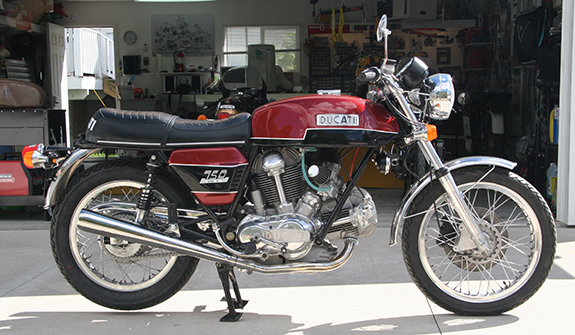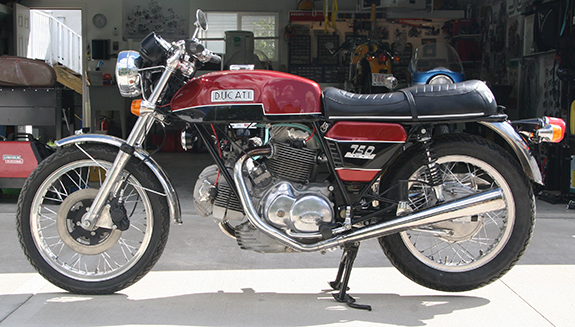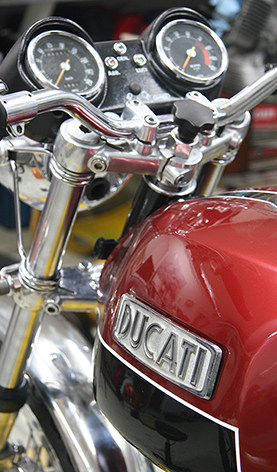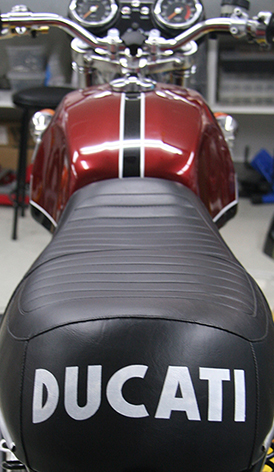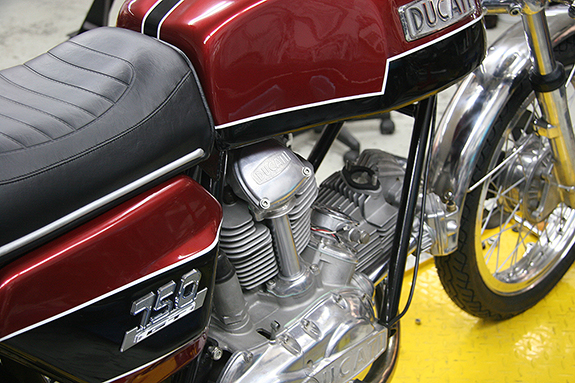 1972 Ducati 750GT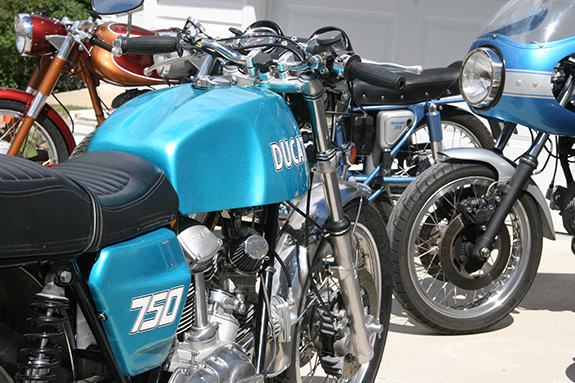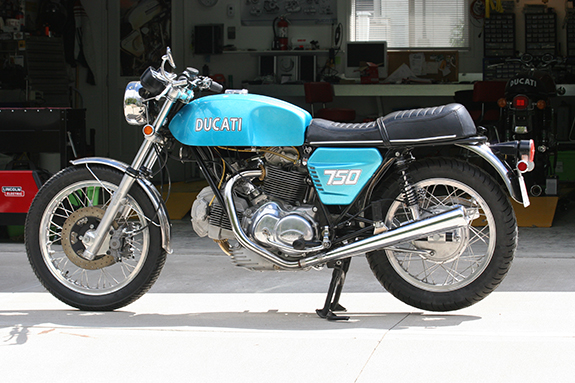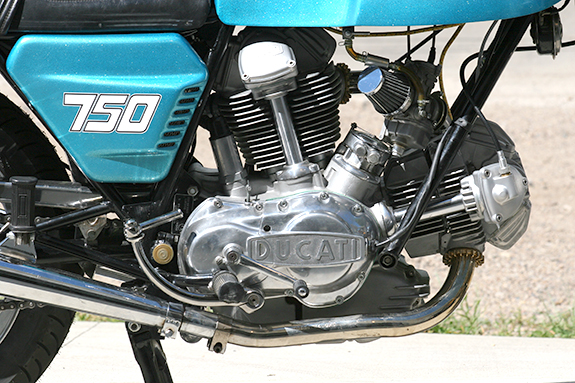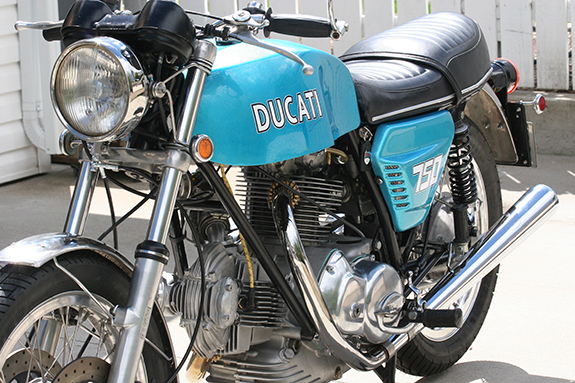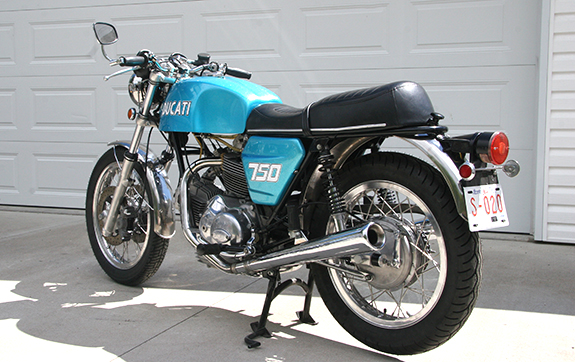 Vapour honing

Also known as vapour blasting (vapor if you're American) and or aqua blasting... its is a wet blasting process using media suspended in high pressure water. Through my restoration business, Ducati Ripristino, I am now offering this service for the restoration of Ducati parts and components. (OK I'll do other brand parts too if you insist :-)

Unlike sand or glass bead blasting the process is non aggressive, so vapour honing (Aqua/Vapor blasting) brings parts and components back to "as new condition" without damaging or altering the original part.

Vapour honing (Aqua/Vapor blasting) does a fantastic job restoring - cylinder heads, carb's, crank cases, wheel hubs, barrels, brackets, side covers, bolts, master cylinders, calipers, rotors, pretty much anything that's metal.

Vapour honing (Aqua/Vapor blasting) gently peens the material surface, hardening it and helping reduce porosity in castings. This makes vapour honed surfaces very easy to keep clean. The proccess produces a satin finish which handles without picking up finger marks, and does not require further finishing or sealing, unlike sand or glass bead blasting. It makes a great surface for painting or plating also.

Vapour honing (Aqua/Vapor blasting) cleans without removing any of the underlying metal or substrate. This allows for the cleaning of delicate parts and soft metals, even rubber and plastics. Stampings, machining marks, gasket faces are all left unaltered, so it is perfect for restoring valuable Ducati parts or any irreplaceable components. Call or email for an estimate - 403-526-6516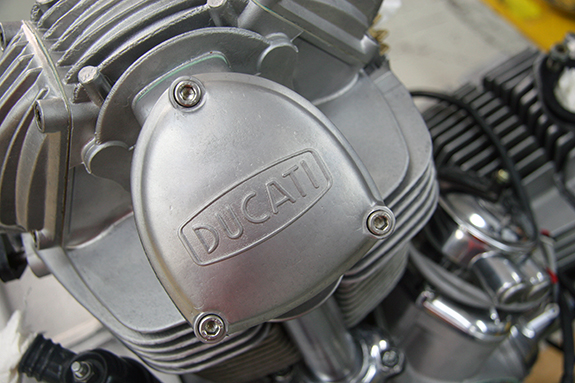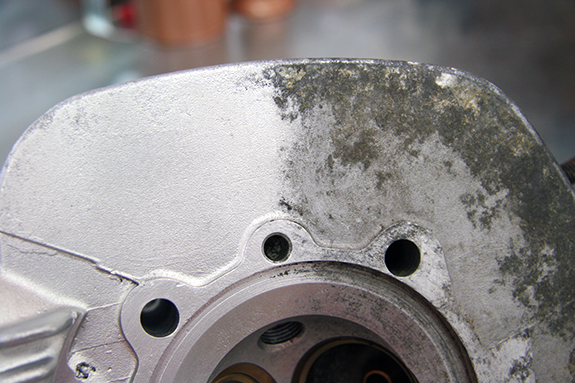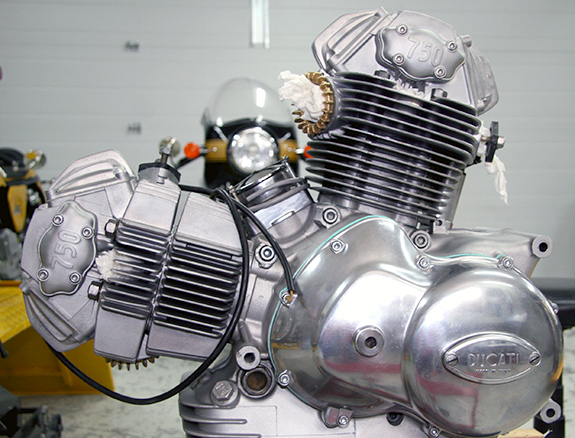 ducati ripristino

I am now accepting a limited number of restoration, repair, and custom build projects... ducati ripristino.com

If you are interested in having me repair, or restore your bevel driven Ducati, or in having me build you a complete handbuilt bevel ducati based custom mortorcycle, please feel free to email me or call me at 403.526.6516 (outside North America add 00 + 1 + the number) and I will be happy to discuss your project with you.

I have a new website which I have yet to update with any of the new stuff... no time unfortunately...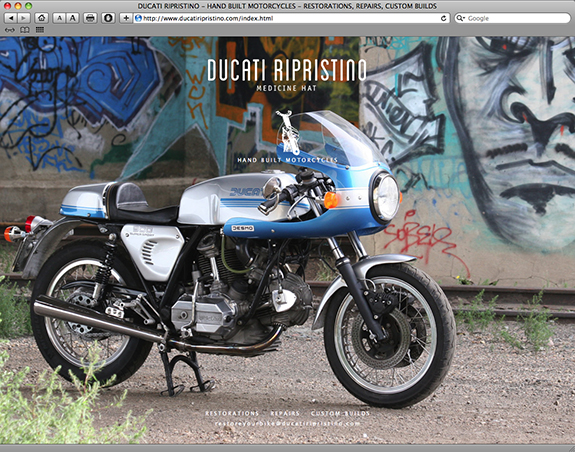 ducati meccanica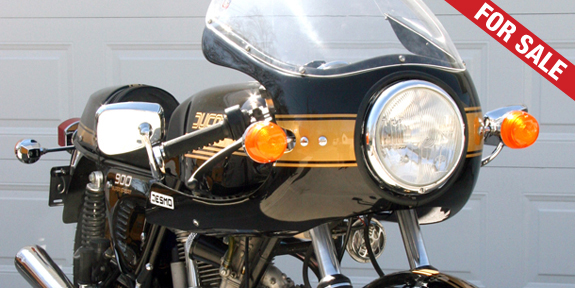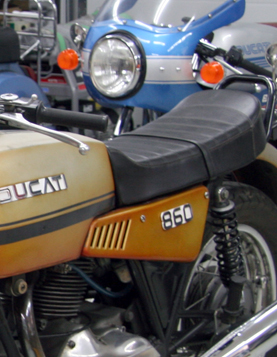 The 2009 version of my yellow bike met an unfortunate end in October of 2011. The insurance company wrote-off the bike, which led to the DMV decommissioning the frame. As a result I had to build a new bike with a replacement frame and a lot of other bits too... here's the result... longer, lower, better looking and altogether more user friendly... note side-stand and all new for 2012... electric start. (Hey, I'm getting old.) You may recognize some of the salvaged parts from the old bike, but there were woefully few of them. I did however manage to save the colour :-)



once upon a time...

and now


1978 Ducati 900 "Sport" GTS
click here for photos, or here to see the 2009 version which is no more... wrecked, and written off...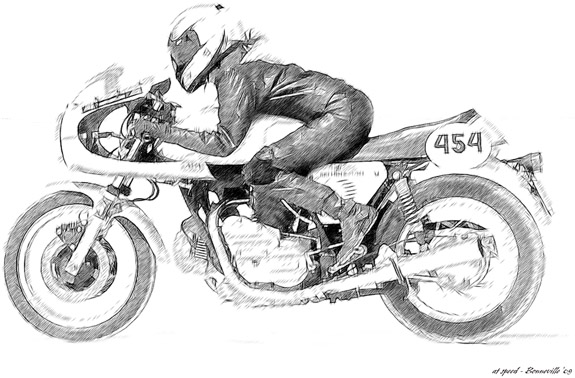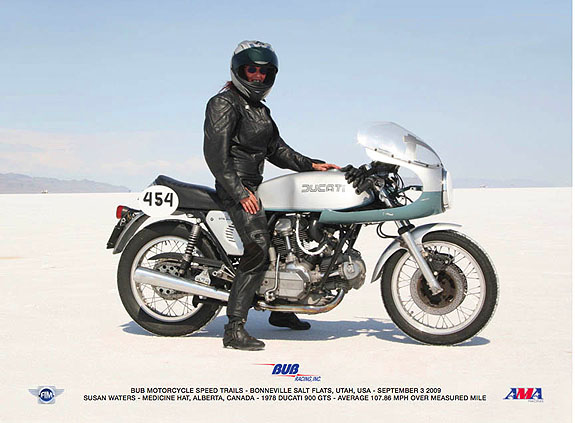 Sue at the BUB Motorcycle Speed Trials - Bonneville Salt Flats, 2009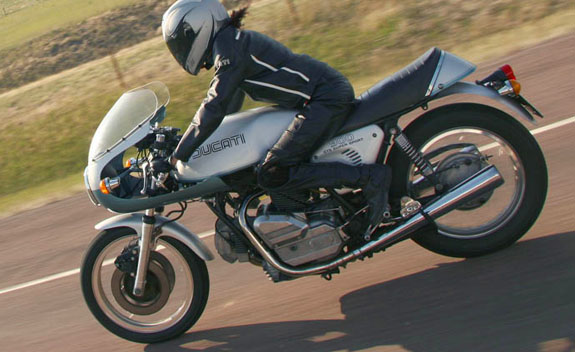 Sue's 1978 Ducati 900GTS "custom" - click for details



before

after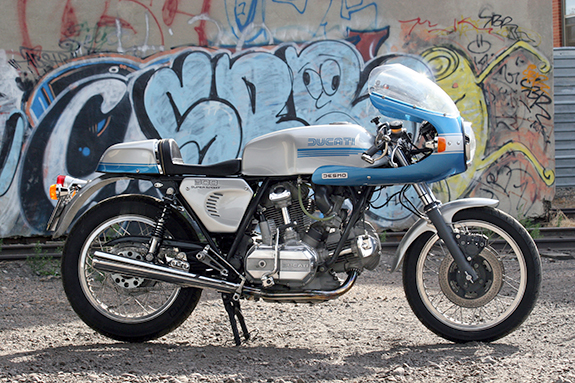 Sue's 1978 Ducati 900 SS "replica" - more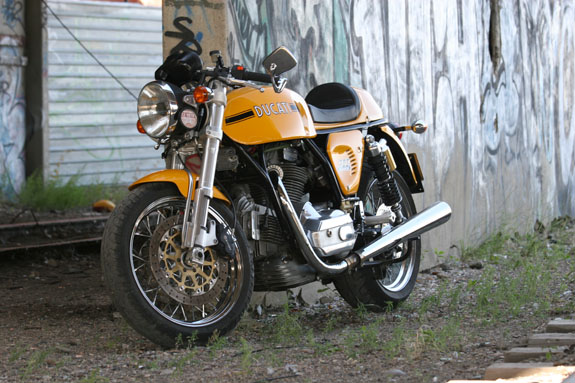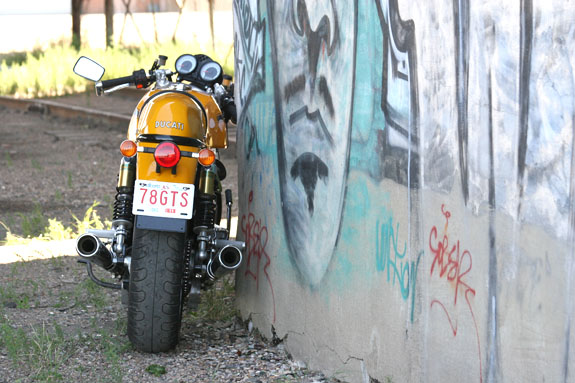 the old bike... sadly no more... pictures are now here




featured in articles

ducati galleries

some fun stuff...
Bonneville GP - Vintage motorcycle racing at Miller Motorsports Park, Tooele, Utah

Rodger Harrison - 750 Sport - Rodger's Sport is perfect...

David Meyer's fabulous bikes - Custom Darmah... 900ss... MH900e...

Tom's infamous GT projects - The bevel barbarian's natural habitat

Richard Kennedy - Tasmania - Beautiful 350 twin filler restoration, completed!

Brian Norrie - Calgary - A thing for S2s, he has two of them and they are just gorgeous!

Sport and singles - a nice sport and some interesting singles from David Chrone

Sue goes to Race City Speedway - and gets her road race license!

Bevelheads get together in Daytona

All Italian Day Car and Motorcycle Show 2001 - Alameda, California

Moto Giro 2001 - Italy - Phil Hitchcock and Chris Bushell at the event

North Vancouver Italian Car & Motorcycle Show 2001 - Photos - Greg Bahrey

Ducati Festival - Spring 2001 - Photos - Wolfram Hage

Scot P Wilson's 750 SS - beautiful Paul Smart Imola Replica

Shawn Roger's 750 Sport - "Best of Show" Daytona "Ducati NIght" 2000

Kevin Bracken's 905cc Ducati - Square-case Custom GT

Kevin's experience building his 900 race motor - detailed discription and photos

Jim Calandro's 750 F1 "Best pre '90 rubberband" Daytona 2000

Steve Richmond's 350 Sebring - was for sale, but you missed your chance

1974 750 Greenframe - the classic

National Ducati Rally 2000, Canberra Australia - Photos - Greg Davies

Great Group Photo - John Clifton - first National Ducati Rally Australia 1992

Latins by the Lake - photos from the annual Latins by the Lake Rally, Australia 2000

Bevels, Van Nuys California - Photos - Dan Kelo

"Greenframes" - Photos - Ralph Poole

Laverda Rally Nakusp BC - First annual Laverda get together at Wolfgang Hearter's (2000)

Bevelheads at Mid Ohio - Peter Bonner

HyperBevel 947 - Huite Vogelaar - Holland

Tom's Newest GT

Spaggiari Replica - New Pics - Grant Vinten's second GT

Ignition Conversion for Singles - photos and info from Phil Hitchcock

Ducati outfit on the Isle of Man - taken by Dan Neff in 2000 - sent in by Greg Bahrey

Isle of Man trip - by Jim Calandro

Wilfried Maetzler's bikes - WDW winner and more

Restoration pics of an F3 & Mach 1 plus lots more - Ismo Hakamaki - Finland

Steve Craven - Aus - Z Stripe 750 Sport...and his Imola replica racer

Kane Brechlin's 750GT - Take a look at "Tink" now

Phil's crossover gearchange on his Singles racer

Seth Dorfler's beautiful 860 GT with leather accessories

Festival of Italian Motorcycles - Sept 2002 - Melbourne, Aus - Russ Murray

Andrew Jone's 450 SCR - lots of work

Steve Wynne's Sport Motors Ducati - photos by Kevin Bracken, Daytona 1982.

Morbidelli Museum in Pesaro Italy - photos by Steve Craven

Moto Giro 2002 - Ron Verweij and Steve Craven

Denver Italian Bike Day - (Auto Mezzi 2002) Willy Gonason

Simons's NCR 900 Ducati - and very tasty too...

Shots of some very rare Ducati's - from Luca Guala

Racing in Germany - Hartmut Snoek and the Konigswellen-Bande

Fred Boonstra - sweet 350 Scrambler - Holland

Adventures in compression - a couple of blown singles

Darmah restoration - Marc Wauters good looking Darmah restoration with custom seat

Follow up to the duc-man spy pics - Thanks Joe

Antwerp Classic Racing Team - Tony van der Sanden

Track Day - Belgium - Joris and Tony along with the Antwerp Classic Racing Team

250 Mototrans Deluxe - Anniversary Ride (Spain to Northern Africa) - Luis Teba

1977 900 SS and a new/old GT - Tim Keyes

One COOL 1978 Darmah SD 900 - Haavard Jakobsen - Norway

BOTT Racing - photographed by Hiroshi at the Japanese series

Some more shots from the Dyke Blast - a few more photos this time from Joris

Dyke Blast 2002 - photos from the first official bevelhead dyke blast

Joris goes to Sardinia - photos from Joris' trip

"Best Bevel Twin" - Rodger Harrison and his Super Sport - Daytona 2002

Marco and Xavier - bevels from French Ducati Club 20th Anniversary.

NDR - 2002 National Ducati Rally Australia - Phil Hitchcock

NDR - National Ducati Rally Australia - March 2002

160 Monza Jr - George Farncomb, Canada

A Very Cool 750 - Eric Charle's, France

2001 Trip from HELL - say no more...

2002 Vancouver Italian Bike Show - Sunday June 16, 2002

Kent Jornevall's Swedish 750 roundcase - oh yes!

A true bevel barbarian - just what do they get up to in Tasmania

450 Jupiter Lorin Smith's pride and joy, original and beautiful

350 Scrambler Project Richard's impossible dream

Ducati Owners Club of Canada Toronto International Motorcycle Supershow 2002

Greg Davies imaculate Sport - great taste in bikes, suspect associates...

The phantom ducman spy pics - who is that masked man

Ismo Hakamaki's "bigbore" 175cc 5-speed

450 MK III D - and some other beauties too

Scot Wilson - a pair of cool '72 Z Stripe Sports

Charles Turner's 750 Sport

Early GT - Stefan Schafter - Switzerland

Hiroshi gets his GT on the road - Hiroshi Yamaguchi's GT passes it's inspection in Japan

Beautiful 1958 125 F3 - Alan Moseley - Holland

Ron Verweij - Holland - a family affair with Ducati...

Bevelhead Racers - some of our very own!

Classic "Blast from the Past" photos - some very cool stuff...

Historic and Racing Ducati archive - historic Ducati images from the Ducati Museum collection - Bologna - courtesy of Livio Lodi museum curator

part suppliers
people I know and or have had good experiences with

Road & Race Ducati - Australia, Phil Hitchcock. The source for bevel parts - if Phil doesn't have it, it's going to be hard to find. I do business with Phil all the time, great service, prices are excellent, shipping is fast - roadrace@cci.net.au

Columbia Car & Cycle - Wolfgang Haerter, British Columbia, Canada - Great source for many of the Ducati parts you've all been looking for. Wolfgang is a great guy, we recommend him highly.
Phone/fax: (Nakusp, British Columbia, Canada) 250 265 0165
Shop: 250 265 0165
Online catalogue

Mdina Italia - Andrew Jones is a great guy, excellent to deal with. I have bought many parts from him, they are top quality, the service is fantastic, shipping is fast, and support is second to none... the website is good too. I highly recommend Mdina Italia.
Phone: 0845 680 9005
Fax: 0845 680 9007
E-mail:sales@mdinaitalia.co.uk

Made in Italy Motorcycles - John Fallon - John used to be Mdina Italia until he sold it to Andrew (above) and anyone who dealt with him then knows he's one of the best. Now he concentrates on finding fantastic Italian motorcycles for people... just check out his website
Phone: 01449 612900
Fax: 01449 612900
E-mail:john@madeinitalymotorcycles.com
or visit in person:
8C Stowmarket Business Park
Ernest Nunn Rd
Stowmarket
Suffolk IP14 2AH

Classic Ducati - Angela and Barry Jones - UK company selling parts for singles - I have purchased from Barry, he's great to deal with, first class parts and service, highly recommended - classicducati@btinternet.com

Classic Italian Bikes - Giovanni Gentile - I've bought several parts from Giovani, always had good experiences and he ships quickly too.
Email: gio655@hotmail.com
Phone: 0031 172422494
Ondernemingsweg 4J
2404 HN Alphen aan den Rijn, Holland

Guzzino.com - U.S. company specalizing in Italian motor cycle parts 1950-1980, large stock of Dellorto Carb parts and Brembo Brake parts
motoguzzino@yahoo.com

OLD RACING SPARE PARTS - Italy, lots and lots of stuff...

Eurotrash Jambayala - Joe Carter in San Jose Clifornia, 150 Piercy Road San Jose, CA 95138 - all kinds of bit and pieces for bevel twins and singles. I've purchsed various bits from him through eBay and been quite happy - sales@eurojamb.com

The Motorcycle Company - Holland, Robert Buijs, catering to classic Ducati enthusiats - fax 0031-182-350011 or call 0031-182-352476 email - rob.tmc@planet.nl

SMS Engineering New Zealand parts source - website shows quiet a few parts - got to love a guy with beveldrive.com as his domain - beveldrive@xtra.co.nz

www.desmo-ducati.de - Wolfram Hage (Berlin) sent in these links to a couple of Ducati shops in Southern Germany that he uses and thought may be of interest to bevelheads. Sites are in German, this one offers a price list in english, Wolfram thinks the prices are fair

www.jako-motorsport.de - shop that offers desmo-head conversions, enables valve clearance to be set with only a screw-driver. Wolfram has this conversion on his SS, says it works well and saves a bunch of time. Website is in German, but interesting nontheless, check out the link to the "Ducati Festival 2000" neat stuff

Buchanan's - wheel builders, one of the best, comensurate prices - 29 E. Garvey Ave. Monterey Park CA 91755 - 818 280 4003

Central Wheel Components Ltd - UK supplier of stainless steel spokes and alloy rims (Borrani/Ankront look-a-likes). Good prices. Phone: 44 (0) 1675 462264
info@central-wheel.co.uk

more good stuff

Cam timing for all bevel Ducati - Jim Pianetta and a racing friend meticulously compiled cam timings for bevel Ducatis. Jordan Princic scanned it and made it up into a PDF file, around 4MB. Jim wanted to have it online so anyone could freely access the information. So here it is. Very useful stuff, and the result of much hard work and dedication. Thanks Jim, and Jordan.

Verlicchi style grips and other rubber goodies - - Yes the original style black "finger bump" grips - perfect reproduction Verlicchi grips... PLUS replacement speedo boots, coil/transducer boots, and fork seal dust covers for Marzzochi and Ceriani type forks!

Detail Brushes - original design, stainless steel or nylon, handmade detail brushes - top quality stuff

Low cost replacement oil filters for 900s - Kawasaki filter - #16099-004 - or after market part # HIFLOFILTRO HF 123 - readily available and seals on the shaft, not on the washer and top cap - Phil Hitchcock

Replacement air filter element - for stock 900cc air boxes: WIX # - 42374
GT Replacement Air Filters:
Ducati Part Number 0615.27. 275 - FIAAM FL 6179
same as: FIAT Part # 4110530
same as: RYCO (FIAT) A134

Lucas RITA electronic ignition system - Sadly no longer manufactured or availabe, here are installation instructions, troubleshooting, photos, and wiring diagrams for those that still have one.

750GT seat cover - pattern taken from the original cover - Lloyd Maclean

The geargazer - aftermarket replacement top bevelcover with sight glass that provides view of working bevelgears, available in various styles, from various sources, like Road and Race

Loctite application chart - which is the right loctite for the job, find out here - thanks ? (send me your name)

Chevy 4X4 Hub Socket - cheap tool that makes it easy to remove or tighten front sprocket nut on Ducati twins, you will have to file it a bit but they are a cheap alternative to the real tool, and available just about anywhere, if you're on the road when you need one.



original owners manuals, parts manuals, workshop manuals...

Cucciolo Owners manual

Cucciolo Parts Manual

Cucciolo Motor Photos


160 Monza Jr. - Operation, Maintenance and Service Manual
(sorry about the wrinkles)


1968 350 Scrambler - Owners Service Manual


'73 350 Ducati - Mototrans - Wiring Diagram


250-350, 450 MkIII, 450 MkIII D, 450 Scrambler - Wiring Diagram


The mother of all singles parts manuals
389 pages of diagrams and part numbers covering all the following models...



1967-70 Ducati Singles Workshop Manual - Supplement

250 Monza and 250 Diana Parts Manual - in French and English

250 GT Ducati Engine - exploded diagram

Ducati single cylinder engine - cutaway diagram



750 GT and 750 Sport

750GT Owners Manual

750GT and 750 Sport Parts Manual

750 Roundcase Workshop Manual

750 roundcase engine cutaway

750 GT - Wiring Diagram

1974 750 Sport - Wiring diagram



750 and 900 Super Sport

1975 750-900 SS Owners Manual

1975 750-900 SS - Wiring diagram

1975-76 750-900 SS Parts Catalogue

1976 750-900 SS - Wiring diagram

1975-77 750-900 SS Workshop Manual

1978 900 SS Parts Manual

1979-80 900 SS Parts Manual



860 GT and 900 GTS

860 Motor - cutaway drawing

860GT Owners Maintenance Service Manual

1975 860GT Parts Manual

860 - 900 GTS Workshop Manual

Supplemental manual to the 860 GT/GTS workshop manual- covers all 860 based Ducati, including: 900SD Darmah, 750ss and 900ss desmo - sevice, maintenance and overhaul instructions



350 500 GTL (parallel twin)

350-500 GTL Parts Manual

350-500 GTL Workshop Manual



Darmah and Darmah SS

Darmah Owners Manual

Darmah Parts Manual - exploded diagrams and part numbers

Darmah Workshop Manual

Darmah SS Parts Manual - exploded diagrams and part numbers



S2 and MHR 900/mille

900 MHR Parts manual

900 MHR Supplement to the 900/SS manual

900 S2 Parts Manual

MHR and S2 (Mille) Parts Manual

MHR (Mille) Owners Manual




Pantah 500/600 SL and Indiana

Pantah 500SL Parts Manual

Pantah 600SL Parts Manual

Pantah Workshop Manual

Ducati Indiana 350 - 650 Parts Manual



750 F1

750F1 Workshop Manual


Cagiva Alazzurra 350-650 Workshop Manual


Cagiva Alazzurra 350-650 Parts Manual

engine rebuild articles


Rebuilding the roundcase engine

Rebuilding the squarecase engine - Classic Mechanics magazine

Part I - Rebuilding a broken Duke
Part II - The tear down continues
Part III - Tearing down the bottom end
Part IV- What's the damage
Part V - Setting up the desmo valve gear
Part VI - Top end tear down
Part VII - Rebuilding the bottom end
Part VIII - Completing the bottom end
Part IX - Finishing up
Part X - Back on the road


Mick Walker's comments - on above big end rebuild

Mick Walker on rebuilding the 860 motor - his own article from Classic Mechanics magazine


Setting desmo valve clearances - Ducati twins - Godfrey DiGiorgi

Desmo valve job - Ducati singles - article from Popular Cycling 1970

Timing Degree Wheel


carburation
tuning, jetting, parts manuals, exploded diagrams etc for DellOrto carbs


DellOrto Tuning Guide - the factory manual, everything you need to know about your DellOrto carbs - includes 32 diagrams

Factory Jetting Guide - selecting the right jets, floats, atomizers, and slides.

Needles Charts - needles sizing for DellOrto carbs. - Jon Houston / Phil Hitchcock

Dellorto Needle Profiles - Wolfgang Haerter

How to correctly set the float levels - how to and height chart

Factory set ups for singles - by model - Alan Moseley

Exploded diagrams - photos and parts lists for:

PHM* PHF* SS1 UB PHBE

PHBG PHBH-L SHA VHB VHSA/B

DellOrto PHM 38-40 mm - Factory workshop manual

suspension
factory service and repair manuals


Marzocchi Forks - Factory service and rebuild manual

Marzocchi AG Strada - Factory rebuild manual

download zip file of all, suitable for printing

submissions
interesting stuff from other bevel owners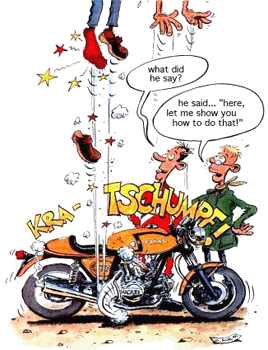 Ducati 1973 - 1997 - Listed by type, number manufactured, and year

Times of adventure - 1957 - Tartarini rides 175 Ducati around the world

Ducati Postcard - neat postcard featuring a couple of cool singles in the Italian countryside

Paul Smart - Autographed commemorative postcard, got this from the man himself at DRA 2001

Gavin Gonsal - buckle owner - 5000 m up the Himalayas - 2001

GTSrule - 100,000 km on a 860 GTS

Metisse 860 frame kits

DOT-5 brake fluid in Brembo brake systems: TSW Vehicle Concepts

IMPORTANT: All brembo braking products use natural-rubber base seals, and therefore are INCOMPATIBLE with DOT-5 SILICONE-based brake fluids.

DOT-5 SILICONE-based fluids react with natural-rubber seals to swell them WHICH CAN CAUSE SEVERE PISTON RETRACTION PROBLEMS. There is no cure for problems caused by DOT- 5 use other than complete seals replacement - USE ONLY DOT-3/4 NON-SILICONE TYPE FLUIDS in your brembo components.

(Yes, we know the cap on the rectangular master cylinders says DOT 3 - 5 Fluids - BUT PLEASE NOTE: Silicone DOT- 5 fluids are NOT generally in use in Europe, but Glycol-based DOT-5.1 fluids ARE. Hence, the DOT-5 cap designation)

For best braking performance, they recommend changing brake fluid twice a year. If the machine is to be stored in a damp environment (over the winter, say), they recommend installing fresh fluid before and after the storage period. At minimum service levels, glycol brake fluids MUST be completely changed at intervals not to exceed a period of 18 months.

K&N Filters Flow Bench Data Chart, with various setups

Making a flywheel puller - for the MHR Mille (with diagrams) - Anders Hortvedt, Norway

Wheel lacing - article from Popular Cycling 1970 - I do mine the same way except I mount my wheels vertically and use a dial indicator for trueing rather than just a pointer

Fix the 750 ignition system Want to run spark and lights at the same time! - here's how - Cycle Magazine 1977

Neutral indicator Need to fix a worn or unreliable neutral indicator - here's the diagram for the cam

Replacing dash lights with LEDs - a step by step how to - Knut Wille

Ballast Resistors Understanding how they work - Lloyd Maclean

Brake master cylinder to wheel cylinder ratios - the secret for finding great brake "feel" - from Vintage Brakes, California

Lockheed master cylinder modification - Original Chris Ghent - additions Chris Haywood

High Performance Gasoline - article from Popular Hot Rodding - the ins and outs of octane

Change oil every 1000 miles - The end to the dreaded "OIL THREAD" - and NOT just because it says to in the owners manual, but substantive research into the old oil question - Motorcycle Consumer News

Some more words regarding oil - James DeRaeve

Fork oil see owners manuals above for volumes for specific models. - Oil weight can and will vary with personal preference in terms of stiffness vs. ride comfort. Simply put lighter oils produce a softer ride, thicker increase stiffness. Thicker, heavier weight oil, increases dampening, slowing fork compression. Suspension travel is usually not changed, but the time it takes to move that distance is increased with thicker oils. Therefore heavier weight oils will reduce the tendency for the front end to dive under braking, but at the cost of ride comfort. You will feel the bumps. Personal choice thing. Typical fork oil weights are 5w - 25w. Many bikes including bevels (see owners manuals) are spec'd for ATF (transmission fluid) in the forks, generally accepted to be equivalent to 15w

"mirror mirror on the wall who's the oddest Ducati of all?"

Oddest Ducati ? - Phil's 20 hp outboard Ducati!!!

Prototype V4 cases and covers - Phil Hitchcock



articles and books
Books

Ducati Books - By no means the definitive list , and not in any order of preference, just some of the books I have found useful and or interesting... go to books


Magazine Articles - classic, period, and or out of print




Is Your Scrambler Fast Enough - pics from Italian magazine "Moto Tecnica" - Luca

Did you seize your Pantah's vertical cylinder - more pics - "Moto Tecnica" - Luca

Narrow Case 12 Volt Conversion - Motorcycle Mechanics - Jon Krocker

Odds on Duke - The Mike Hailwood Replica - Superbike magazine - Brenard Fanning

Hailwood's Honda 6 cylinder - Cycle World magazine - Brenard Fanning

A very special special - May 1980 Superbike magazine - Brenard Fanning

Devine Right To Be Different - Ducati 750 Sport - Superbike magazine - Rodger Harrison

Luigi's Hammer - 107 hp 160 mph Duke - Superbike magazine - Bernard Fanning

Last Real Bike - Zenyata Ducati from Superbike magazine - Bernard Fanning

Yellow Hammer - Harris framed Darmah custom from Superbike magazine

Ducati SS vs Guzzi LeMans - interesting article from Feb '85 Superbike magazine

750 GT quick service - article from Motorcycle Mechanic September '75

Millemono - period monoshock Mille article, Superbike Magazine

900 SS desmo - 1978 article, Cycle Magazine

Ducati GT 750 Article - "Motociclismo" November 1971

The Supreme Sportster, Ducati 750 Sport - "Two Wheels" October 1974 - Australia

750 Sport - great article from "Italian Motorcycles" Magazine

Hanging off - The in's and out's and where's and why's of hanging off, all the science you need in language anyone can understand, great article - Dave Hough

Tuning Yourself For The Twisties

Darmah - Motorcycle Classics Magazine Article

Birth of the Ducati V Twin - article from "Streetbike" magazine - by Ian Falloon

The California Hot Rod - Cycle Magazine - the Cook Neilson 750 race bike, the bike that made Ducati's name in North America, in his own words

One Good Season - Cycle Magazine - Cook Neilson on his '75 season, great photos and a great read

Darkest Secrets Revealed - Cycle Magazine'77 - Cook Neilson reveals the secrets of what made the Hot Rod so fast

One for the Road - 1973 Cycle Magazine on the '72 750 Sport, very interesting

750 Sport - 1987 Classic Bike Magazine "classic test" on the 750 Sport

Walker on desmodromics - article from Classic Mechanics magazine

Bearings: Part 1 - article from Classic Mechanics magazine

Darmah - article from "Streetbike" magazine - by Ian Falloon

Ducati Darmah 900SD - April 1980 Cycle Magazine

A Racing Darmah down under - from Performance Streetbike

Paul Smart's Imola winning 750 - from Classic Bike Magazine

Darmah Queen - great article from Moto Retro magazine

1972 750 Sport - The rarest of the rare? photo and information

250 desmo - by Dave Minton - great article with photos and wonderful period advertisements - from "Two Wheels '75"

Mick Walker Motor Cycles - 1975 Advertisement - love him or hate him you've got to see this. Not responsible for injuries resulting from viewing this ad.

Period advertisement - must be '75 as there are still singles and the "stop press" news is the wonderful new 860GT!

900SS and 900 MHR - Ad from Superbike 1980
Period ad for Darmah

Period UK Ducati ad Mick Walker, Sport Motor Cycles

Another period UK ad - interesting to compare the then new bike prices

MHR period UK ad - the bike born out of a legend

MHR - poster from Superbike magazine 1982

original sales literature

900 SS "cutaway" diagram

Posters - '69 Mach 1, '74 350 Desmo, '73 750 GT, '74 750 Sport, '72 750 Imola Racer

6 Page 60's Sales Brochure - Featuring: Cadet 100, 160 Monza Junior, 250 Monza, 250 Mark 3, 250 Scrambler, 350 Sebring -

750GT factory sales brochure - Awesome original 8 page foldout

2 750 GT Posters

860cc - Poster

50 Falcon backside

65 100 Cadet backside

250 350 450 Desmo

125 Bronco - small

250 Monza - small

350 Desmo - small

Elite 200

250 Mach I

250 Road backside

250 350 Mk3D - poor condition sorry

250 Diana Mk3 backside

250 Diana Mk3 backside

250 Scrambler backside

450 Desmo - Berliner ad, just plain scary

Apollo D/B V/4 backside

750 GT backside

750 GT backside

750 GT

75 750 SS Squarecase backside

75 900 SS

73 750 Sport

750 Sport backside

76 860 GT backside

77 860 GTS

78 900 GTS backside

78 900 SS backside

79 900 SS> backside

78 Darmah backside

79 Darmah - backside

Darmah 900 and 900 SS inside 1 inside 2 backside

79 900SS and 900 MHR inside backside

Mike Hailwood Replica 900 backside

81 900 SS - backside

900 S2 Inside backside

Mille S2 Inside backside

Ducati brochure cover - various models, MHR, S2, TT1, Pantah

600SL Pantah

Pantah 600 Police - small

F1A backside

750 F1 4 page original sales brochure

F1 Prototype



some authentic Italian recipes
translations by Luca Guala

This was an idea of Luca's to share some authentic Italian recipes with some authentic Italian bike nuts. He's translating and sending me recipes that his girlfriend Antonia makes, Sue and I are trying them, and then posting them here. The ones we have tried so far are excellent, there are perks to doing this website.

I am presenting the recipes exactly as Luca sends them, try them just the way he describes, his English is great, and some of the subtle nuances in his translations are delightful, thank you so much Luca. What a great idea.

Pasta alla Bolognese - wonderful, this is the real thing from Bologna, try it, it's great

Pasta al pesto Genovese - a real treat and Luca says a typical recipe from Genoa

Tiramisu - if you've never had real Tiramisu you don't know what you've been missing...

Hiroshi made Tiramisu - 'it's very sweet and nice but a little bitter like bevel driven Ducati'


D I S C L A I M E R

I take no responsibility for anything you might or might not do as result of information you find on or through this website... anything you do as a result of viewing this website is your responsibility and has explicitly not been advised, encouraged or recommended by me.